I didn't really establish a TBR for November. Over the past few months, I've realized that while I'm competitive and love the idea of a challenge, I read for pleasure and escape, and will balk at starting a book if it's not something that I have a great interest in reading at that moment.
18 books this month for a grand total of 6,691 pages read!
2 Children's; 16 YA or Adult
4 Five Stars; 11 Four Stars; 0 Three Stars; 1 Two Stars; 1 One Stars; 1 DNF (Did Not Finish)
13 E-books/Audiobooks; 5 Physical books
1 e-ARCs; 5 Library books; 12 Owned books; 1 Subscription books

The number's a little off here because I downloaded The Darkest Star as an e-ARC, but then bought my own copy from Amazon Kindle.
---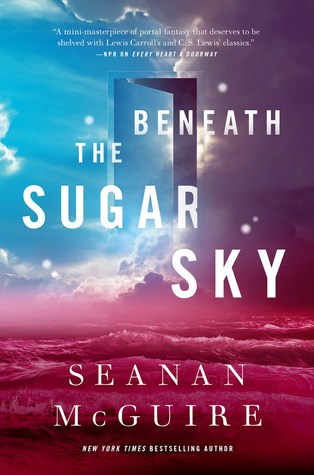 I am loving this series! I love how unique the characters are and the way the worlds come alive. This is a very immersive story and this book, more than the two that came before, shows a lot more of the different worlds and paints them well.
Each book in the series started with a strong quality, then built upon it. The first was great at character development and motivation. The second was great at mood and setting. And this one excelled at world-building.
Also, the primary setting for the book was the world of Confection, which was perfect to be reading on Halloween, where everyone is Trick-or-Treating for candy!
Three books into this series and I'm definitely putting it on my list of books to own in physical format.
---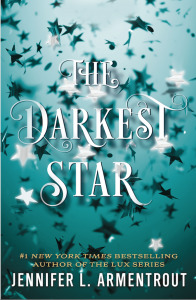 I loved this story! It was interesting and fast-paced, with a believable romantic arc. There were plot twists and intrigue to keep you chasing the words down the page to the end.
I found out later that this was a spin-off novel from the Jennifer Armentrout's Lux series, but it reads well as a stand-alone. But I would be remiss if I didn't admit that I want to go right out and gobble up the Lux series now, too. I also really hope that these characters appear in subsequent novels!
I think the relationship between Evie and Luc is my perfect blend of intriguing bad-boy with a heart of gold, and spunky heroine who doesn't let him walk all over her. Evie's relationships with her friends and mother also felt very authentic and well thought-out.
This was a book that started off fairly strong, but ended even better. It went from 4 stars, to 4.5, straight to a 5 star book that I must own. Thank you, NetGalley, for allowing me to read this!
---
Since I loved The Darkest Star so much, I went right to Amazon and bought the Lux series, in the hopes of being able to stay immersed in this world just a little longer.
This was a great story! I'm so glad it wasn't a case of insta-love, but that they both struggled with attraction and flaws. The action and threat kept the pace moving and made this book hard to put down. 
Katy's character growth was great to read. She started off as a normal teen girl with insecurities, but grew into someone who was self-possessed and not willing to be pushed around.
---
This book had so many great quotes that made me grin:
Daemon was a total babe, but he was stab-worthy.

"Keep using your ego steroids."

Dog-eared pages were Antichrist of book lovers everywhere.

I was having one of those days where I wanted to start throwing things because only breaking crap would make me feel better.
Clear: A Death Trippers Novel by Jessica Park
---
I don't really know what to say about this book. It was going well for a while; I was reading it on a flight.
But then it got suddenly… pornographic. Uncomfortably so, especially when I had a guy sitting 3 inches away from me.
Then, it got weird. Truly W-T-F weird. I had to stop reading it. It has been sitting in my Currently Reading section of my Goodreads for 7 months, taunting me. I would occasionally try to make it through more of the book, but it was a struggle.
I finally just sucked it up and plowed through it. It was painful and I skimmed a great deal.
That resolution though. UGH! Really? Come on! REALLY?! I just… no.
I like a lot of Jessica Park's other books, and I get that this one warned you that it was going to be different, but it was bad different.
---
I intended to finish this book. I had initially selected it at random from the library when I was trying to complete a Harry Potter OWL/NEWT reading challenge.
It could be an interesting adventure story, but I just wasn't feeling it at the time that I read it. It's not really the book's fault in any way; I think I was just not in the right mindset to be able to enjoy  it. I may even pick it up again in the future and really like it.
However, I had just slogged my way through one book that I did not enjoy, and the library's due date was approaching, so I allowed myself to DNF it and move on. There's no shame in that.
---
I read this book for a Book Club sponsored by my friend, Monica's, Let's Peanut Butter Taco 'Bout Books group on Facebook. Unfortunately, I didn't make it to the meeting that day. 😦
This story was written almost backwards. It starts off, skips 3 weeks ahead, then goes backwards in time one day per chapter, until the end, when we are back in the correct timeline. It was interesting, especially at the end, when you realize that everything eventful basically happened on Day 1, and that for the rest (preceding part?) of the book, the protagonist knew damned well what happened already.
I just wanted to mention the cover for a moment. This is really a beautiful book. I love how the cover subtly points to a scene in the book that defines the protagonist's relationship with one of the missing girls.
---
This is still an engaging series, but it feels a little more juvenile than The Darkest Star, which is still my favorite Jennifer L. Armentrout book.
Case in point is Katy's language throughout, which I started highlighting in this third book:
ape poo poo

brouhaha

zilch

Oh, dear baby kittens

Milk did a body good.

doofuses

Holy country roads take me home
It was fine. It didn't really bother me. It certainly set Katy apart in my mind from other protagonists (a bookworm danger is that all the characters you read start blending together when you read so many books back to back).
I started to read book #4 in the series, Origins, but somehow I became sidetracked. Probably because I had a stack of library books that I had to return soon. I'm hoping to finish out this series in December.
---
The Magic of You (Malory Family #4) by Johanna Lindsey
5/5 Stars
Growing up, my mom would bring home books for me to read from her communal "library" at work. Of course, these were almost 100% the serial Harlequin romances. So, I was really young and reading romance. Solid parenting choice. *grin* Anyway, it lead me to be interested in historical romance books towards my high school years. They were longer books and a little more involved. They still had the I-will-die-for-you passion that I loved, and I found the Regency era interesting.
Re-reading these later in life is a little… different, but no less enjoyable. I can recognize the complaint that many people have that the male characters are misogynistic and that the female characters are simpering and doormat-y, but I can forgive a lot of things for the sake of the story. I'm not really too picky.
The Magic of You was one of my favorite books in one of my favorite series by one of my favorite authors in this genre. Amy is spunky and goes for what she wants with a formidable single-minded determination. Warren is a grumpy old dude (no, really, he's like twice her age), but he eventually cannot withstand Amy's determination and falls in love in spite of himself. (This really isn't a spoiler. It's a romance book. They're on the cover. Obvs, they are going to end up together.)
Why are there two images for this book? Well, I bought the Amazon Kindle version of the book when I wanted to re-read it, and it came with the cover on the left. However, I am partial to the original cover that the book had when I read it in high school, which is  the one on the right (I think the title/author font was different on my copy, though).
Johanna Lindsey has a ton of books featuring the Mallory-Anderson family, and I have really enjoyed reading about them all.
After re-reading this book, I am interested in getting back into reading the historical romance genre, and re-reading a lot more of my favorite authors and series.
---
I loved this book! It was uniquely written from a mish-mash of documents and transcriptions, but for all of that it was an edge-of-your-seat ride, was incredibly fascinating, and managed to keep a remarkable continuity, tension, and emotion throughout. The best (worst) part about it was that because this was written as a compilation of documents in a file, you never knew if your protagonist(s) were still alive, because you were reading about them after the fact. But that didn't lessen the pace of the story one bit.
The sarcasm and repartee between the characters made my snarky heart warm and there were several times in the plot that I had to FULL STOP quit reading and go back to look up some previously mentioned detail or the other. Plot twists were a plenty and there was a lot to root for. This was definitely a story that had you shouting directions at the characters (as if they could hear you), while in the bottom of your stomach was an icy fear of dread, because it was possible that these files were all that was left of the people (characters, Jenn, they aren't real) you loved.
I have already placed the entire series on my birthday/Christmas list.
Of the notes that I took as I devoured this book in one day, this one stands out as the clear winner, "All of the blacked out words are like Profanity Madlibs in my head."
---
I read half of this book one night and the other half as soon as I woke up the next morning! It was an absorbing read and I was always eager to see what they would discover next.
I think it was well-done, although we didn't dive too deeply into the characters and their motivations, but perhaps that wasn't necessary, because this was Beatrice's story. Beatrice tends to see the good in everyone, but this tendency also makes you miss the dark, complicated things that swirl in everyone's heart.
This only got 4/5 stars for two reasons. First, because while it was an absorbing read, I'm not a huge fan of mysteries and once I know how they turn out, the re-read factor struggles. Second, the ending. I get what the author was trying to say, but I wanted the mega happy ending (Thank you, Wayne's World, for my unrealistic expectations). After all of the adventure, I wasn't expecting something so introspective and philosophical.
My friend, Sarah, from Forever Young Adult, wrote this far more eloquent review.
---
This book caught my attention and I read it straight through without putting it down. It was interesting to read about a vampire struggling with her humanity vis-a-vis her thirst. There were a lot of themes of trust, loyalty, family, bravery, sacrifice, denial, faith, hope, and acceptance that made this a really worthwhile read.
The edition that I read also had some study questions that the end which made you think about the themes and the significance of the book to a greater extent, which I appreciated.
---
I read the first 5 books in The Gender Game series (The Gender Game, The Gender Secret, The Gender Lie, The Gender War, and The Gender Fall) in November.
I love dystopian YA, and these didn't disappoint me. There are a lot of people out there who think that the premise is silly (Two countries: Matrus, which is a female-dominant society; and Patrus, which is a male-dominant society. They are separated by a toxic river and are semi-codependent upon each other, while at the same time semi-antagonistic towards each other. Put in a hard spot, our young protagonist, Violet, must go on a dangerous mission to attempt to steal back a mysterious object for her country.
It gets more complicated from there, but it is a really interesting story. There is a romance element, but it's not insta-love and it feels well done. I think Violet is a smart protagonist, with the right balance of bravery, self-sacrifice, and compassion.
Viggo is a good complement to Violet, and I love that he has his own voice in this series and that his reactions are different from Violet's, while still feeling authentic to his character.
Each book is about 400 pages long, but the pacing of the stories is great, for the most part, and it doesn't feel long. It's been very entertaining so far, and I can't wait to see how it all ends!
---
I was really looking forward to loving this book, but I ended up being a little disappointed.
The illustrations were great. Really sweet and evocative with great colors.
This book on the back cover and inside flap make a point to tell you that this book is to drive home a moral point, which was more in-your-face than I expected from a book blurb. However, I soon found that the MORAL/MESSAGE of the story really was that prominent in this story. In fact, it felt that they were trying so hard to make a point that they forgot to really make a plot.
I had hoped that this would be a cute adventure story, but it wasn't much of a story.
There is a seal on the cover that indicates that this is a Peace Dragon Tale, so perhaps there will be a series of books. I'm hoping that this is just the introduction and that any subsequent books will have more action and adventure.
---